The international half-scrub, Matt Dawson, and wife, Carolin Hauskeller, after 11 years together decided to put their marriage to an end. Thrillz reports to check in with Matt and his family one year later.
When did Matt and his wife Carolin split up?
A Question of Sport star and retired Rugby professional, Matt Dawson, surprised Twitter with an announcement back in September 2020. On Monday evening, Matt wrote:
"We know this will be a surprise to most, but after 11 years together Carolin and I have decided our relationship needs a new direction, bringing our marriage to an end. The love for our beautiful boys grows stronger day by day, as does our friendship as co-parents."
Did Matt Dawson's wife end the marriage?
Perhaps a cruel irony, but Matt Dawson and Carolin Hauskeller ended their marriage during their anniversary month in September. The pair had been married for 11 years and have two sons, Alex and Sami (9 and 7 respectively). Matt said that their relationship "needs a new direction", which has led to a lot of questions about their love life.
Matt Dawson and Carolin Hauskeller dated for 2 years before they were married, and sparks were flying greater than Fireworks night. Sadly, the love has fizzled out, although the two remain close for the benefit of their sons. However, it was a very amicable and joint decision, which had apparently been building for some time.
Matt continued: "To our dear friends, please continue to support us as positively as you can for the next stage of our lives. It's vital that Alex and Sami understand that we will always be a united family." 
What happened on A Question of Sport?
The decision to split up and co-parent their sons came shortly after Matt Dawson left popular quiz show, A Question of Sport, with team captain, Phil Tufnell, and presenter, Sue Barker. An emotional end after a decade of entertainment.
 The BBC's decision to axe the show created a lot of controversy, as host Sue Barker and Phil Tufnell were replaced by three younger presenters. Rumour has it that Sue was "too old" and the show needed to adapt to a younger audience, despite having presented A Question of Sport for 24 years. Matt Dawson and Phil Tufnell followed her tail, in an honourable act of comradery.
Why Did Matt Dawson and his wife split up?
Although this announcement came as a shock, supposedly the reason Matt Dawson splits from his wife had been brewing for a while. The couple had drifted and faced a lot of challenges during their marriage. 
 However, shortly after Matt Dawson and his wife gave birth to second son, Sami, the couple faced "two weeks of hell". Sami was diagnosed with Meningitis W135, a rare strain that emerged in the early 2000s from the Hajj pilgrimage in Saudi Arabia. 
The then two-year-old underwent treatment at Great Ormond Street Hospital, luckily getting the vaccine that saved his life. But before receiving this life-saving treatment, Matt and Carolin Hauskeller were told to prepare for the death of their son. 
The decision to co-parent 
The traumatic experience was a testament to their relationship; Matt Dawson and his wife at the time maintained a strong bond. Although love is not a fixed emotion, and things do change.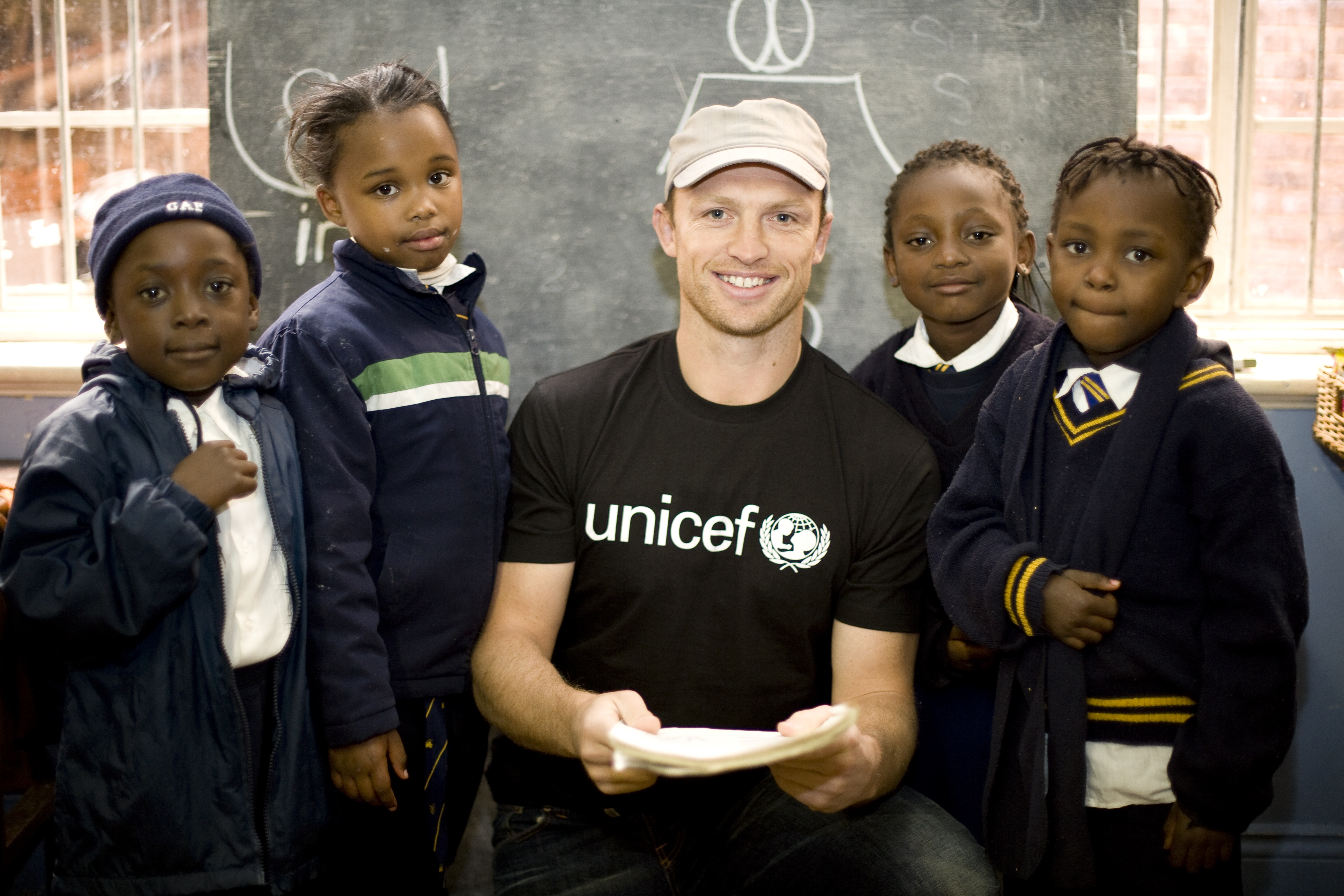 Photo by The Co-operative is licensed under CC BY 2.0.
It's probably because of Sami's health battle that the couple maintains they will "always be a united family", to ensure their two sons get the support that they both need and deserve. So Matt and his wife of 11 years will co-parent sons, Alex and Sami, sharing responsibilities and going to school events when required. 
How did people react to Matt Dawson (wife and sons)?
Matt is very public and vocal about his personal life, which helps him establish a close connection with his audience. Despite all the lovely messages from fans and friends, Matt also received a bit of hate from a few Twitter trolls. One user went as far as to say that the tweet was just like "a teenager putting up a relationship status."
However, close friend and TV star, Jason Donovan shared his condolences, writing: "Sending love to you both mate. The Donovan's." Matt Dawson received a lot of support and lovely messages from sports pals like Michael Vaugn, Matt Wallace and former Harlequins captain, Danny Care. 
There were no tweets or public messages from A Question of Sport's co-stars Sue Barker and Phil Tuffnell, although undoubtedly they supported Matt behind the scenes.
Former German model, Carolin Hauskeller,  rarely takes to social media to share her life, (unlike ex-hubby Matt), who promoted stories via his platform.
 Why do marriages need a "new direction"?
Marriage counsellors also state that most marriages and relationships are based on a "love story", which comes from books, films or idolised fantasies. Due to this, our idea of love can sometimes be false or unrealistic, which can lead to feelings of unhappiness or worse, boredom.
According to the latest statistics, approximately 42% of marriages in the UK end in divorce. When that's coupled with the pressure of being in the public eye, or having a demanding job, it can lead to marital issues.
It's easier to get a divorce nowadays than ever before; once one (or both) parties start to feel unhappy in their marriage, it's harder to sow the seeds.
Positive Psychologists believe that marriages require counselling to communicate their emotions and feelings during stressful periods or prior to a divorce. Sometimes couples will need to build bridges or break them altogether, but it requires "neutral territory" to come to a shared understanding. 
In fact, it doesn't matter how long (or little) people have been together, without the fundamentals of communication, the relationship is doomed. That's why couples will often need to spice it up or take a new direction that better serves their wellbeing, like becoming friends.
 A tribute to Matt Dawson
Here at Thrillz, we know that Matt's had a rollercoaster ride and it wasn't an easy decision for him and Carolin to split. But despite the challenges life has thrown at him, he continues to be a supportive father, businessman and all-around positive person! Matt is also part of a new campaign to help sportspeople with sports-related injuries with Good Energies. 
While you're here.
Don't forget that you can get a personalised message from A Question of Sport's Matt Dawson right here! If you or your loved one is Matt's top fan, you could get the perfect gift. Nothing says "you're awesome" more than a (virtual) meeting with your idol. Who needs a signed rugby shirt when you can get instant, tailored video messages?
Note: Thumbnail image by Blackcat is licensed under CC BY 2.0.